Quick Links: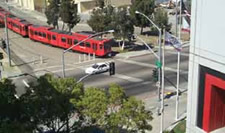 The Moving Broward Plan is a compilation of projects and programs contained in both the Broward County Metropolitan Planning Organization's Long Range Transportation Plan and the Broward County Transit Investment Plan-so we started with some clearly identified and universally acknowledged needs. But, it is much more!
The Moving Broward Plan details phasing, prioritization and partnership. It lays out specific bus headway (frequency) improvements; where and when planning and implementation of Express and Limited Stop type service will be instituted; the time frame for the planning and implementation of Bus Rapid Transit and Light Rail Transit and the corridors where those services will be introduced; and the financial plan to support both the capital and operating costs of all of these programs.
The Moving Broward Plan also addresses the special needs our paratransit riders have and how our doubling of the budget in this area will lead to the improved service quality that we know is necessary, and that we are obligated
and responsible to provide.
The Moving Broward Plan details the partnership between the County and its Municipal colleagues, with a direct distribution of 10 percent of the sales tax revenues to each city for use at their discretion on transit and transportation related projects and services.
The Moving Broward Plan addresses the opportunity for regional cooperation; setting the stage for an inter-county transit system, where political boundaries are seamless and commuters get to where they need to go on time and unencumbered by who is running the system.
Lastly, the Moving Broward Plan provides the dedicated funding source for regional transit and transportation projects to leverage state and federal monies, and provides a dedicated revenue stream for municipalities to leverage for the acceleration of their priority projects. Timing is of the essence in order to qualify for these funds. If we do not demonstrate a dedicated funding source by the beginning of 2007, we will miss out on having Broward County included in the next federal funding authorization legislation as it is developed for distribution beginning in 2010, and will have to instead wait until the next round of funding decisions in 2016-a wait we simply cannot afford!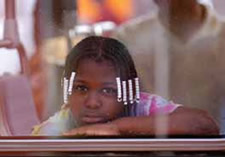 Essentially, the Moving Broward Plan is the blueprint for our transit and transportation future. It is specific to the point of accountability that projects identified will be completed yet sufficiently flexible to make adjustments as circumstances and demographics realign. We have given the Broward County Commission exactly what it envisioned when it astutely identified transportation as their Number 1 Priority and we look forward to presenting this plan to them for their review, and ultimately their vote to place this issue on the November 2006 ballot.
Benefits to the Cities
The Cities will receive benefits in several ways:
Ten percent from the total revenues generated by the penny sales tax will be distributed directly to the cities based on their population. With estimated annual sales tax revenues of $260 million, a total of $26 million would be distributed to the Cities. With this amount in cash, the cities can further leverage their share by bonding, at a conservative ratio of 15 to one, increasing the available $26 million to almost $400 million for transportation projects of their choice.
Each City will also benefit from the 10 percent that is set aside for County-wide traffic signal and traffic flow improvements (traffic synchronization).
Each City will also benefit from the County-wide transit projects that are paid for by the remainder of the sales tax revenue. These projects, including the overall bus service improvements, paratransit enhancements, Bus Rapid Transit (BRT), and Light Rail Transit (LRT) projects will extend across multiple jurisdictions.
The Cities will have the discretion to spend their 10 percent on any transit and/or transportationrelated improvement of their choosing in their community. Some of the projects that the Cities can allocate their funds toward include:
Roadway improvements
Sidewalks
Local signal improvements
Bikeways
Trails
Transit facilities, vehicles, and service.
The Cities will also be able to use their 10 percent allocation to retire debt used to fund eligible transportation projects.The table that follows lists the direct distribution that will be allocated to each City. A more detailed listing of the specific projects that will be within each City, or will affect each City, will be appear in the Plan once the input from the communities has been received. As shown in the table, each City will receive an annual distribution of 10 percent from the total revenues generated. All municipal allocations will be made by formula based on annual population estimates provided by Bureau of Business and Economic Research (BBER) of the University of Florida. It should be noted that no allocation was made to the unincorporated portions of the County as it was assumed that these areas would be annexed into adjacent Cities before the implementation of the Moving Broward Plan.
Preliminary Financial Plan
The total cost of the Moving Broward Plan through the year 2030 will be $12.6 billion, which includes all of the Capital costs for the Plan's implementation (construction of major projects and purchase of new equipment) as well as the operating costs of the expanded transit system through the period The discussion which follows, and the charts below illustrate the costs for the various system components, and the sources of funding including how the proceeds from the penny sales tax will be spent.
Transit Capital Improvement Costs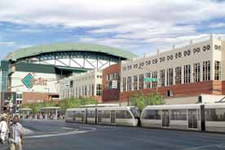 The Moving Broward Plan will feature a number of major capital improvements between now and 2030, as described in the "Overview of the Initiative and Moving Broward Plan" section of this Plan. The costs listed below and illustrated on the Chart represent total capital costs of $5.46 billion for the period 2007-2030 in constant dollars (2005-06) and includes funding of these program components from federal and state formula programs as well as the penny tax and other county sources:
Bus fleet expansion from 308 to 596 standard coaches, and the addition of 99 commuter and BRT vehicles including normal vehicle replacement: $721 million.
Community bus fleet expansion from 65 units today to over 260 buses. Since the service life of these buses is about 6-years, over the period over 1000 units will be purchased under a normal replacement cycle. The total cost for this component of the program is $61 million. This cost represents the County share for the purchase of the Community Bus vehicles, assuming that Community Bus is expanded in existing Cities and added to Cities that currently do not have Community Bus.
$170 million will be spent to upgrade existing and develop new bus garages.
$180 million will be spent to upgrade the existing transit centers; develop 8-10 new centers, and develop park-and-ride lots.
$136 million is budgeted for passenger amenities such as upgrades to bus stops, shelters, sidewalks, and information systems.
Nearly $2.7 billion is programmed for major Light Rail (LRT) and high capacity transit lines. Another $780 million is budgeted for Bus Rapid Transit projects on major corridors throughout the county. These projects will be funded using State and Federal funds to cover nearly 64 percent of their cost and County funds the balance. It is anticipated that the State Road 7, 12-mile starter LRT project would be financed with only State and local funds that can then be used as the local match to future Federal grants. Some of the remaining phases of the LRT and the BRT projects are anticipated to qualify for Federal Transit Administration "New Starts" funds (under Section 5309, discretionary funds). A premium over-match-about 37.5 percent is budgeted versus the standard 25 percent to improve Broward County's chances of gaining project approvals and a share of the New Starts funding pool.
$611 million has been budgeted for program contingency to meet FTA's capital funding standards. Grantees are required by FTA to meet strong financial qualifications and this budget is designed to show that there are dedicated funds for the transit improvement program - including buses, plus a contingency to meet unforeseen problems.
Direct Distribution to the Cities, County-Wide Traffic Synchronization And Roadway Improvement Costs
The Moving Broward Plan proposes that ten percent of the penny sales tax proceeds be distributed directly to the Cities for discretionary transit and/or transportation related improvements for their specific community. Funding
allocations will be based on population. In the first year, the allocation to the cities will be $26 million. An estimated $859 million will be allocated to the Cities by 2030. Should the Cities elect to leverage these funds through bonding, over $400 million per year could be available to fund local transportation projects.
Transit Operations Costs
By 2030, annual transit operating costs will grow considerably as a result of the increased services to be provided. It will take an estimated $7.1 billion to operate all the existing and new transit services programmed. The County's budget in 2005-2006 was about $100 million - with about 20 percent of these operating funds coming from passenger fares and the rest from County General funds, Local Option Gas taxes and dedicated state and Federal grants for transit. The Moving Broward Plan will include the following:
By 2030, yearly bus operating and maintenance (O&M) costs will grow to over $205 million
ADA paratransit costs will grow from about $20 million in 2005 to over $45 million
Community Bus costs will grow from about $4.5 million in 2005 to nearly $19 million annually by 2030
The cost to operate new rail and high-capacity transit systems is estimated at $82.5 million in 2030;
A transit security program will be established in the first-year that will grow from $4 million to almost $10 million annually in 2030
Six percent of O&M funds are set aside for program administration costs.
By 2030, the total transit O&M costs will be about $383 million annually, including the operating costs dedicated to Para transit and Community Bus services-compared to $100 million in 2005.
The dedication of these funds will serve as evidence to the FTA of the County's ability to fund the operation of existing transit services, expanded transit services and new LRT, BRT and high-capacity transit services. This evidence is required by FTA in order to obtain Federal New Starts funding grants for major capital projects.
Funding the Program
Funding for implementation of the Moving Broward Plan will come from several sources:
It is estimated that the penny sales tax will provide over $3.5 billion toward operating costs over the Plan period and $3.3 billion for capital projects and vehicle purchases through 2030. Tax revenues generated beyond 2030 will allow the system to continue to be operated and maintained in a state of good repair, and will provide continuing capital matching funds for system enhancement and expansion.
An additional $1.5 billion in funding will come from farebox revenues, which will grow over the period to cover approximately 30 percent of operating costs.
Broward County will continue to contribute "maintenance of effort (MOE)" funding for transit from existing general fund and local option gas taxes (LOGT), and the municipalities will continue to contribute to Community Bus operations. Over the period 2007 through 2030, the County MOE is proposed to be "frozen" at $70 million per year, for a total of over $1.6 billion. These sources are vital to plan integrity and meeting both capital and operating and maintenance (O&M) needs.
For capital projects, funding will also come from state and Federal grants. For the major projects, FTA New Starts (Section 5309) funding will be sought in the amount of $1.3 billion, representing 37.32 percent of the capital project costs. An additional 25.36 percent will come from State of Florida matching funds. Federal "Formula" grants under Section 5307 will provide another $264 million for capital projects.